Books for Writers
How-to writing books and booklets, available in print and digital form, by Elizabeth Lyon, author, editor, and instructor.

Manuscript Makeover

Elizabeth Lyon
Perigee/Penguin
Available through: Amazon, Nook, Kobo
Reviewer Chuck Leddy selected Manuscript Makeover, in the December 2008 issue of The Writer, as one of the "8 Great Writing Books in 2008" and as "perhaps the most comprehensive book on revising fiction."
"I have read many books on writing, and I have taught writing at three universities. Manuscript Makeover is the best book on fiction writing I have ever read."
—James W. Lee, retired news director for an NPR affiliate; retired adjunct professor, writing teacher, produced playwright, novelist
Nonfiction Book Proposals Anybody Can Write: How to Get a Contract and Advance Before Writing Your Book
Elizabeth Lyon
Perigee Books
Available through: Amazon, Nook, Kobo

In this comprehensive yet accessible guide, you will learn exactly what a proposal is, what it must contain, and how to pull yours together into an informative, persuasive selling package. Already a favorite for thousands of aspiring writers, this book features nearly two dozen actual proposals, plus:
• Choosing a topic based on current trends and competing titles
• Drafting the perfect concept statement
• Preparing a table of contents and chapter summaries
• Submitting intriguing and well-written sample chapters
• Writing query letters
• Devising a marketing plan that will excite agents and publishers
• Examples of publication consent agreement and an author/agent agreement
• Resource information on market guides, literary agents, writers and editors' reference books and more
Your advice was most helpful and led to my gaining first an agent, then a book contract, and finally a request to submit a proposal for another related bookie am confident that the professional proposal I submitted based on your own book was the key to this book standing out in a crowded field.
―J. Stephen Jones, MD, FACS

Last year, my husband bought it for me after I met with an book publisher and she told me to submit a formal book proposal. I had no idea what I was doing or how to do it. Your book became our constant companion....It took three months to put the entire package together, and when it was completed, I must say, it was fabulous....A few weeks later, I received one of the most exciting phone calls in my life. Adams Media had accepted my proposal!... When I visited Adam's office to meet the staff, every one of them made a positive reference to my book proposal. They said it was the best they ever saw, they were overwhelmed by it, and the compliments are still verbalized when ever the subject is brought up. Adams has been a pleasure to work with.
―Catherine Galasso-Vigorito, Branford, Connecticut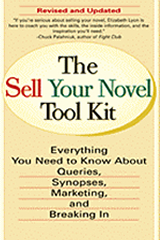 The Sell Your Novel TooL Kit: Everything You Need to Know About Queries, Synopses, Marketing, and Breaking In
Elizabeth Lyon
Available through: Amazon, Nook, Kobo

Elizabeth Lyon has written a masterly work that belongs on every writer's bookshelf.
―Jean Naggar, literary agent

Throw away all of your other how-to books; the Sell Your Novel Toolkit is the only book you'll need to break into print. My dog-eared first edition helped me draft a query that landed an agent, which ultimately resulted in a three-book, six-figure deal.
―J. A. Konrath, author of Whiskey Sour


WRITING SUBTEXT

The 59-pg ebook for $2.99 and the 58-pg paperback for $3.99
BUY: Kindle, Nook, Kobo or Paperback

Writing Subtext

Subtext is one of the most elusive and powerful elements of craft, referring literally to what lies beneath the text, existing in what is implied but not explicity spelled out such as sexual attraction and hidden agendas. With incisive instruction and practical examples from multiple genres, Elizabeth dymystifies what at first blush seems complex.



A Writer's Guide to Fiction
Elizabeth Lyon
Perigee Books
Available through: Amazon, Nook, Kobo

A concise, practical guide for novelists and short story writers that covers how to: Barnes and Noble
Develop the art and craft of storytelling: five-part structure, Hero's and Heroine's journeys, scene, set-piece, subtext; pacing, description, narrative hooks, endings, and theme
Create memorable characters that live and breathe: in-depth characterization, character chemistry, point of view, dialogue, archetypes.
Apply professional keys to self-editing, with checklists and summaries.
Discover strategies to successfully market your work, with sample query letters, insider tips, resources, and directories.
"A Writer's Guide to Fiction" is a terrific resource for authors; positive in tone (VERY important to aspiring writers), well organized (a critical point for both authors and the librarians who are often called upon to advise them in these matters) and concise. I wish this book had been available when I fired up my own writing career!
―Jayne Ann Krentz

Elizabeth Lyon's latest book "A Writer's Guide to Fiction" is a must-read for anyone about to embark on fiction writing or anyone enjoying a writing career. As agents, we are recommending all our clients read it either as an inspiration or as a valuable refresher course. Lyon never talks down to the writer but simply puts up clean, clear signposts to follow the fiction rules of the road. Highly recommended.
―Anna Cottle and Mary Alice Kier, Cine/Lit Representation

A superb introduction to the basics. Don't start your novel without it.
―Donald Maass, literary agent and author of Writing the Breakout Novel
A Writer's Guide to Nonfiction
Elizabeth Lyon
Perigee Books
Available through: Amazon

"A Writer's Guide to Nonfiction" helped me understand not only the craft of writing (opening my eyes to pre-thinking, the synthesis of heart, mind, and ideas)--to create a cogent and meaningful work! But even more, it helped me understand and experience the artist in me. On a personal level, it is helping me find my voice to make a difference.
―Debbie Caldwell, reader, Portland, OR
Your book, "A Writer's Guide to Nonfiction," has inspired me over all the books I have read about publishing and believe me, I have read too many to count.
―B.W.B. e-mail to author
crafting titles
The 70-pg ebook for $2.99 and the 74-pg paperback for $3.99
BUY: Kindle,Nook, Kobo, Amazon paperback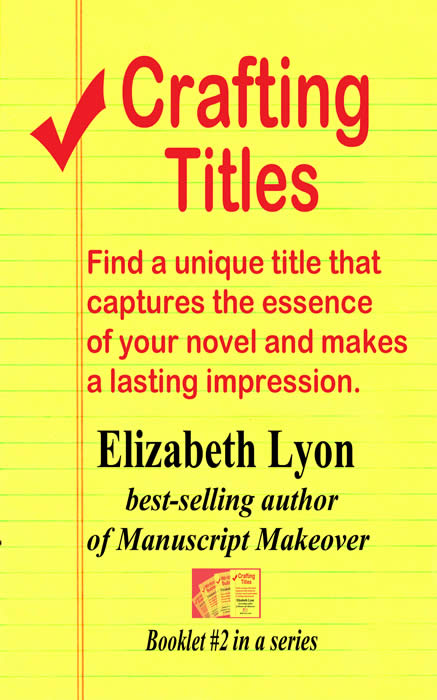 CRAFTING TITLES

Analyzing classic and contemporary fiction, from all genres, Elizabeth Lyon decodes why an author's finished title is better than alternatives.
Lyon explains when to consider a character name, a place, a date, a theme, or something else. Crafting Titles identifies keywords that telegraph genre titles and how to find a brand for a series. Imagery and quotations, word patterns and devices. By the end of the process, you'll understand how to confidently choose the best titles for your stories.
National Directory of Editors & Writers
Elizabeth Lyon
out of print, rights back to author
Available through: Amazon

This first-of-its-kind directory features the profiles of 530 editors and writers located in 48 states. This 330-page book serves the needs of individuals, businesses, nonprofits, and government agencies. Nominated for an indexing award, the directory includes indexes by geography, specialty, genre, and company name. When searching for an editor, writer, or literary consultant, the reader can compare by education, preferences, fees, years in business, accomplishments, specialties, and other categories.